Business Stationery (business cards, letterheads, envelopes, etc.) is priced by Paper Type, Ink Color(s), Quantity, and Custom Services (if applicable). To determine the base price for an item, reference the base prices in the catalog:
Using your catalog, locate the paper selection desired and note the Price Code at the top of the page (Ex/ White Linen is BC-3).
 
Determine how many ink colors will be used on the job (Ex/ Reflex Blue & Black).
 
Determine the quantity of the job (Ex/ 1000).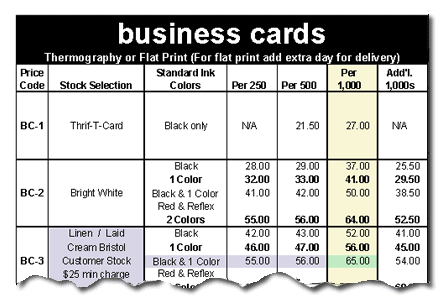 Please note that this is only the base price for an order. A final price is determined by adding the custom services to the base price. Review the list of custom services and carefully add each charge to the base price if applicable.
---